AROUND US
CHIANCIANO TERME (Km 10)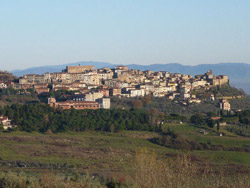 This spa town, which specialises in the treatment of liver disorders, is among the most famous in Italy. The special properties of the waters of Chianciano is not far from the spa centre with its hotels, shops, treatment centres and elegant parks where the therapeutic waters emerge: "acqua Sillene" is used for balnotherapy and mud-bath treatment; acqua Sant'Elena" used for the treatment of the kidneys and urinary disorders. Both the climate and the unspoilt green areas are excellentr, holidays here are fulfilling and pleasant and dedicated to health and fitness. More than 2 million people visit Chianciano every year. Cultural attractions include the Museo Etrusco, soon to be opened, and the Museo della Collegiata. Also to be seen are the collegiate church of S.Giovanni Battista, built in 1229 and restored in 1809, the church of the Compagnia (1517), the Torre dell'Orologio with Medici crest and the church of Madonna della Rosa (1585) designed by B. Lanci.
SAN CASCIANO DEI BAGNI (Km 34)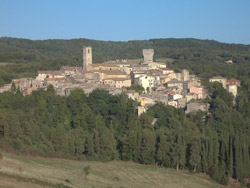 The main feature of this medieval town, which stands on the Sienese border between the regions of Umbria and Lazio, is its wealth of hot spring water, numbering as many as 42 springs. The waters here were already known in Roman times (Oratius alludes to their therapeutic qualities). The main economic activity is related to hot springwater tourism and to "agritourism" which thrives thanks to the unspoilt woods and countryside. Today, a new building stands next to the former spa centre where it is possible to have a variety of mud and water treatments. In the near vicinity the swimming pool is filled with hot spring water at 40°C. It is worth visiting the fairy-tale castle of Fighine. Traditional festivals include: the "Sagra dei Pici" - a homemade pasta speciality - in Celle sul Rigo, a village built on the site of a former fortress. The festival is held on the last Sunday in May. In San Casciano the "Sagra del Ciaffagnone" takes place on the first Sunday in June. The other frazione of Palazzone is wellknows for its wine festival and its strong Chianti Colli Senesi wine.